Oil & Gas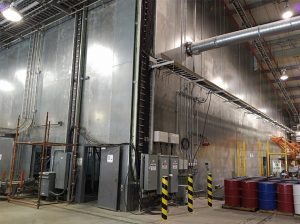 The Invicta Group, through its specialist division Invicta Fire Protection provides fire and blast solutions to the Oil & Gas sector through a range of different systems such as fire & blast walls around pumps, valves, and nearby modules. With the potential risk of fire and catastrophic damage from a fire or blast, Durasteel's passive fire & blast protection provides personnel with enough time to escape, unimpeded by the progress of a fire.
Durasteel is a global standard in the protection of oil rigs and offshore platforms and has been tested to a range of many global standards. Not only is it lightweight, but it is also resilient, up to two hours rated against blast, impact, water, corrosion damage, and even the most intense hydrocarbon and jet fires
Due to the presence of highly flammable substances, the high pressure they are pumped at and the presence of heavy machinery and electrics, they are extremely high-risk environments. Durasteel's passive fire protection help to mitigate these risks by ensuring that critical parts of the structure are shielded from damage and ensuring its integrity in the event of an accident.
Durasteel oil and gas fire protection has been used in oil rigs, petrochemical processing plants, gas plants, LNG plants, and floating LNG operations, among a myriad other applications. The lightweight construction of Durasteel barriers means deployment is generally quick and unobtrusive – protecting the facility without weighing it down.
Invicta is proud to support greater safety within the oil and gas sector and has a legacy of successful passive fire protection projects. Visit our Case Studies page for more examples of our work, or contact us today to see what we can do for your business or enterprise.